Several companies have launched voice control applications. They are great apps for people with disabilities who have difficulty using their smartphones and healthy people who want voice control on their devices.
Cell phone with voice command: how to start using?
Not all devices have the option of voice command. However, those who have this option available, have their activation usually performed as follows:
For iOS: Touch Settings / Settings and then General. Touch Siri. Move the Siri slider. Now, when you use voice activation features, you are using Voice Control. Also choose the language you want to use for voice control.
For Android: Download and install the Play Store Voice Access app. Open your device settings, tap Accessibility and then voice access, and turn it on. Tap the notifications on the message: tap to get started, and point to a command like "Open Gmail". Make sure your language is supported before you start using voice control.
How to block voice control?
When Voice Control is enabled, it is always ready to receive the commands. However, if you want to avoid problems while using an app, for example, you need to disable the function.
Phone with voice command: activating
Voice control can be activated in different ways depending on your device.
On iOS: From the remote control of your headphones: When you are wearing headphones, press and hold the center button of the button for a few seconds, and Voice Control will appear on the screen. On the home button: press and hold the home button (the center button just below the screen on the face of the phone) for a few seconds, and Voice Control will appear.
On Android: After you turn on Voice Access, open your notifications bar on Android. Tap the "Tap to get started" voice access icon. Say a command like "Open Gmail". After opening Voice Access, just speak the commands like "Download WiFi", "Go home", among others.
Voice command for Android and iOS: use examples
Some commands and uses for voice control follow below.
The composition of the text allows voice transcription. First, start the application that receives text input, such as e-mail. You can start the applications in one of two ways: speak any of the numbers displayed on the screen or say open followed by the application name. For example, if you want to send an email using only your voice. You can say "open Gmail". Then, the email number you would like to read. Composing an email will not require much effort. Speak the composing icon number, then start talking. Recognition capabilities are very accurate, and errors can be easily corrected. Voice access also recognizes commands, such as "backspace" and "enter". It includes a lot of advanced compositing voice commands, such as "delete phrase", which erases a whole sentence and "delete word" which clears the word next to the cursor. There are many more commands than the ones shown in the screenshot. For a complete list, say "show commands".
The control of apps is very simple with the control of voice. Multiple applications can be opened and controlled directly by voice. For example, in a chat app, you can choose a name and send a message to that person.
Users can also use their voice for menu navigation. The commands allow complete control over the wireless navigation and system menu.
Because voice access is an accessibility tool for the disabled, it replicates gestures in voice commands. If an application requires a particular gesture to perform an action, users only need to vocalize the gesture. The best example is in the unlock screen. Users can say "unlock" which activates the unlock gesture (scroll up). The combination, the composition, the navigation and the gestures make these resources capable of doing anything that the users can do with their fingers. This makes it suitable for a wide range of functions.
Potential uses for voice access
With voice control, any device can act as a voice-controlled hub, similar to smart products like Amazon Echo and Google Home. Some possible functions include: intelligent voice control hub for things Internet devices, a media remote control and as a voice control method for Android Auto.
Those who use Smart Home devices should try voice access combined with an Android or iOS device. You will need to set up your device to constantly listen to voice commands. The setup process requires simple steps, depending on your device. Just remember that a connected device all the time will have a weakened battery very quickly.
You can send video from an Android or iOS device to a larger screen. Compatibility varies from device to device. When combined with voice access, the devices can function as a control for your media center. Unfortunately, it will also process the audio output from the television, so pausing or stopping the media content requires physically interacting with the device.
Voice access is not perfect
Many commands may have problems, but this entire system is still being improved . There are many devices that have no wizards in our language, and it may be necessary to speak in another language, such as English, for the device to understand. Be sure to choose the right language for your voice assistant.
Gallery
Data Breakdown, How Consumers Use Smart Speakers Today …
Source: voicebot.ai
GM01 GSM Alarm Camera with Wireless Home Security System
Source: www.jimilab.com
Cool music Background Wallpapers
Source: renemartijnwessels.blogspot.com
How to Silence Moto G Notifications and Ringtones
Source: allaboutmotog.com
Maruti Suzuki SCross' SMARTPLAY Infotainment System
Source: www.pcquest.com
Cortana-Uber integration for Windows 10 is almost here …
Source: www.windowscentral.com
20 Android Voice Commands to Take Full Control of Your Phone
Source: joyofandroid.com
Connected computing offers a new life for blind people …
Source: theconversation.com
The fourth wave of airlines
Source: www.livemint.com
16 ways to go on a digital cleanse if you use Google …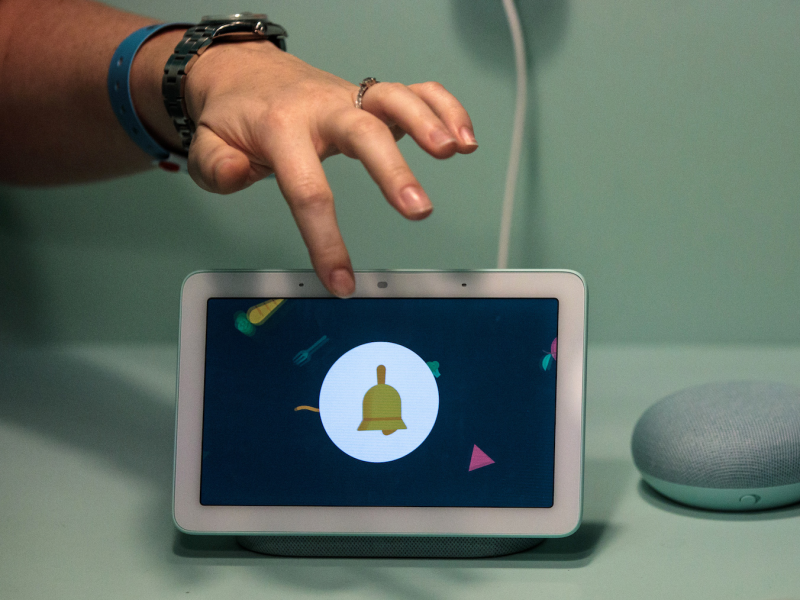 Source: www.businessinsider.nl
Audible Audiobooks On Echo : Love My Echo
Source: lovemyecho.com
Nokia 105 Mic Way 100% Solve step by step Easily Fix
Source: flashfile9.blogspot.com
Texting While Walking Can Be More Dangerous Than …
Source: blog.suny.edu
Klein Electronics Inc. Blackbox Bantam Professional 2-Way …
Source: www.officer.com
Codan Radio Communications Patrol Manpack in Radios …
Source: www.officer.com
Bing Lockscreen image for Lumia 925
Source: forums.windowscentral.com
PVR profit up eightfold to `58.5 crore
Source: www.livemint.com
Complete list of Skype Commands – Skype Chat Command …

Source: voipnina.com
Voice Search SEO Strategy 2017
Source: ivolutionconsulting.com.au
TCC
Source: www.tccsecure.com